INDIAN INSTITUTE FOR INFORMATION TECHNOLOGY( IIIT)
INDIAN INSTITUTE FOR INFORMATION TECHNOLOGY( IIIT)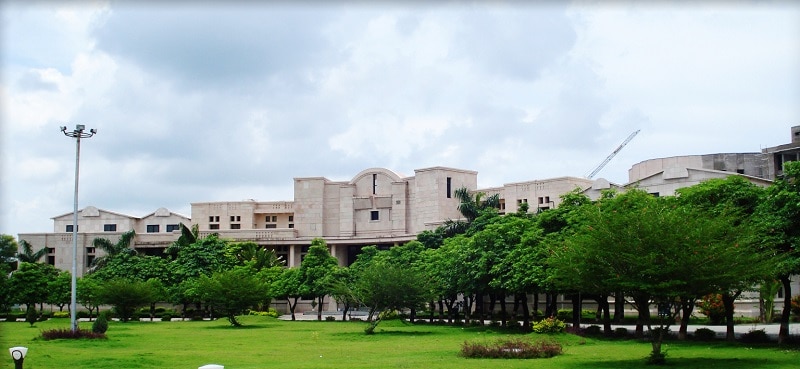 The Indian Institute of Information Technology (IIIT) is a group of educational centers in India that focus on information technology and associated business requirements. IIIT centers are sponsored by the centralized government. IITs provide every kind of engineering branch while IIIT as the name says provide only Information Tech related fields like ECE, CS, IT, etc. IIIT and IIT both come among India's best colleges. To get into an IIT, you need to clear JEE Advanced while IIITs take people on the basis of AIR through the common counselling.
The main aim in setting up the institutes was to nurture a skilled workforce with specialization in information technology to meet the needs of a rapidly-growing technology sector. Today, the institutes offer a range of undergraduate, graduate and doctoral programs in information technology, electronics, communications engineering, cyber law, information security and biomedical engineering. Admissions to undergraduate programs at IIITs are conducted through the All India Engineering Entrance Examination.
Courses at IIIT
The following are the major courses at various IIITS in India
Computer Science and Engineering.
Electronics and Communication Engineering.
Computational Natural Sciences.
Bioinformatics.
Computational Linguistics.
Civil Engineering.
IT in Building Science.
Spatial Informatics.
Admissions:
Salient Features of JoSAA
The Joint Seat Allocation Authority (JoSAA) 2018 has been set up by the Ministry of Human Resources Development (MHRD) to manage and regulate the joint seat allocation for admissions to 100 institutes for the academic year 2018-19. This includes 23 IITs, 31 NITs, 23 IIITs and 23 Other-Government Funded Technical Institutes (Other-GFTIs). Admission to all the academic programs offered by these Institutes will be made through a single platform.
All the candidates who appeared for JEE (Main) 2018 / JEE (Advanced) 2018 should take note of the following important points:
Registration:
All candidates who have appeared in JEE (Main) 2018 are eligible to register for seat allocation in NIT+ system (except IITs).

All candidates who have declared qualified in JEE (Adv.) 2018 ;are eligible to register for seat allocation in all participating Institutes.

Filling-in of choices: Candidates may fill-in their choices of Institutes and branches in decreasing order of their preference. Candidates are strongly urged to fill-in as many choices of their interest as possible.

Locking of choices:Candidates MUST "lock" their choices. For candidates who do NOT lock their choices, their last saved choices will be locked automatically when the time-window for filling-in of choices closes.

Number of rounds of seat allocation:JoSAA will conduct seven rounds that is 1st through 7th rounds of seat allocation for academic programs offered by Institutes under JoSAA 2018.

Seat acceptance: Candidates allotted a seat must pay the seat acceptance fee (through SBI e-Challan/SBI Net Banking/SBI debit cards) and get the documents verified at any reporting center (josaa.nic.in) for provisional seat acceptance .

Participation in subsequent rounds:A candidate is required to fill option for 'freeze', 'slide' or 'float' the choice of academic program.

Dual Reporting:If in a subsequent round, a candidate's allotment from NIT+ system changes to an IIT, the candidate MUST report ONCE AGAIN at an IIT reporting centre, similarly if a candidate's allotment from IIT changes to an NIT+ system, the candidate MUST report ONCE AGAIN at any NIT+ reporting centre, failure to do so will result in forfeiture of seats allocated in both NIT+ system and IIT.

Withdraw option: A candidate, who has already accepted a seat, can withdraw the seat by reporting at a reporting center up to sixth round of seat allocation.
Important:
Registration:Candidates who do NOT register within the specified time window WILL NOT be able to seek admission for this academic year.

Filling-in of choicesCandidates who do NOT fill-in choices within the specified time window WILL NOT be able to seek admission for this academic year

Dual Reporting:Two times reporting required in case of seat allotment changes from NIT+s system to IITs and vice versa.

No modification of locked choices once locked, choices CANNOT be modified.

For complete details, please visit http://josaa.nic.in and MUST read BUSINESS RULE.
The following are the different centres of IIITs in India.
Courses:

B. Tech(Computer Science & Engineering)Integrated (B.TECH + M.TECH (IT))M Tech (Computer Networks)M Tech (Digital Communications)M Tech (Information Security)M Tech (VLSI & Embedded System)IPG(MBA) (5 Year Integrated)PG MBA

Courses:

B. Tech-in

Information Technology (IT)/ Electronics and Communication EngineeringM. Tech. inInformation Technology (IT)/ Electronics and Communication Engineering (ECE)/Bio-Informatics

M. Tech Specializations:

Bio informatics, Cyber Law and Information SecuritySoftware EngineeringIntelligent SystemsRoboticsHuman Computer InteractionMicro electronicsWireless Communication Engineering

Integrated M. Tech+ PhD

MBA & Full Time and Dual Degree MBA - Ph. D with specialization in Information Technology

Four Year Undergraduate degree (B. Tech.) programme in:

Computer Science & Engineering
Electronics & Communication Engineering
Design
Mechanical Engineering

M. Tech. Specializations:

Master of Design ( M. Des) Ph.D.

(1) Computer Science & Engineering (CSE) (2) Electronics & Communication Engineering (ECE) (3) Mechanical Engineering (ME)(4) Design (5) Natural Sciences (NS

B. Tech ( Computer Engineering) -this novel program offers core courses such as Embedded Systems, Human-Computer Interaction, Simulation and Modelling, Signals and Systems, Product Design etc.,

Electronics & Communication Engineering with specialization in Design & Manufacturing.

Mechanical Engineering with specialization in Design & Manufacturing.

Smart Manufacturing

Integrated B. Tech+ M. Tech ( Computer Engineering)

B. Tech Electronic Engineering and Communication Engineering with specialization in Design & Manufacturing + M. Tech VLSI & Electronic System Design >B. Tech Electronics & Communication Engineering with specialization in Design and Manufacturing + M. Tech Signal Processing and Communication Systems B. Tech Mechanical Engineering with specializations InDesign & Manufacturing + M. Tech Product Design B. Tech Mechanical Engineering with specializations InDesign & Manufacturing + M. Tech Advance Manufacturing

M. Design

Communication Systems Electronic Systems Mechanical Systems

M. Tech

Smart Manufacturing

PhD

Computer Science & Engineering Electronics Engineering Mechanical Engineering Physics Mathematics

B. Tech. (CSE & ECE)

M.S. by Research in CSE and ECE and Ph. D

B. Tech. in Computer Science and Engineering (CSE) B. Tech. in Electronics and Communication Engineering (ECE) P H D in CSE & ECE

B. Tech. in Computer Science and Engineering (CSE) B. Tech Information Technology M. Tech CSE PHD

B. Tech. in Computer Science and Engineering (CSE) B. Tech. in Electronics and Communication Engineering (ECE)

Courses:

B. Tech ( 4 Years)

Computer Science and Engineering Electronics and Communication Engineering

M. Tech ( 2 Years)

Computer Science and Engineering Software Engineering Database Systems

B. Tech

Computer Science and Engineering (CSE) - 60 Seats Electronics and Communication Engineering (ECE) - 60 Seats Information Technology - 40 Seats

The Institute presently offers

B. Tech in Information Technology (IT) and Computer Science Engineering (CSE)

B. Tech in Electronics and Communication Engineering (ECE).

Courses:

B. Tech in Computer Science Engineering (CSE)

1. Ph.D. in Engineering

For admission to the Ph.D. Programme in Engineering departments, a candidate must satisfy one of the following criteria:

Master's degree in Engineering/Technology in a relevant area with a minimum CGPA of 6.5 or 60% of marks.

Bachelor's degree in Engineering/Technology or Master's degree in Science in a relevant area with a minimum CGPA of 7.5 or 70 % of marks. The candidate should be GATE/NET qualified.

2. Ph.D. in Science

For admission to the Ph.D. Programme in Science departments, a candidate must satisfy one of the following criteria:

Master's degree in Science in a relevant area with a minimum CGPA of 6.5 or 60% of marks. The candidate should be GATE/NET qualified.

Master's degree in Engineering/Technology in a relevant area with a minimum CGPA of 6.5or 60% of marks.

Bachelor's degree in Engineering/Technology or Master's degree in Science in a relevant area with a minimum CGPA of 7.5 or 70% of marks. The candidate should be GATE/NET qualified.

3. Ph.D. in Humanities and Social Sciences

For admission to the Ph.D. Programme in the department of Humanities and Social Sciences (HSS), a candidate must satisfy one of the following criteria:

Master's degree in Arts/Commerce/Science in a relevant area with a minimum of 55% marks or equivalent of m

Courses:

B. Tech

Information Technology

B. Tech

Computer Science & EngineeringElectronics & Communication Engineering

Ph.D

PhD in Computer Science & Engineering and Electronics & Communication Engineering

ONE of the following is a must:

(a). Master Degree in Engineering/Technology or equivalent degree in relevant areas with a minimum of CGPA/CPI of 6.5 on a scale of 1-10 or First Class or 60% marks in aggregate.

(b). B. Tech/M.Sc. in Engineering/Technology/ or equivalent degree in relevant areas with a minimum of CGPA/CPI of 7.0 on a scale of 1-10 or First Class with Distinction or 70% marks in aggregate. Applicants with experience in a reputed R & D organization or company, or published papers in reputed conferences and journals, or a patent are preferred.

PhD in Physics/Mathematics

The following is a must:

Master's Degree in Physics/Mathematics or equivalent degree in relevant areas with a minimum of CGPA/CPI of 6.5 on a scale of 1-10 or First Class or 60% marks in aggregate. Applicants having a valid GATE/NET/CSIR/SLET or equivalent are preferred.

Courses:

B. Tech

Computer Science and Engineering

Computer Engineering

Electronics and Communication Engineering with specialization in Design and Manufacturing (EDM)

Electronics and Communication Engineering

Mechanical Engineering with specialization in Design and Manufacturing (MDM)

B. Tech

Computer Science

B. Tech in Information Technology (IT) and Computer Science Engineering (CSE)

B. Tech in Electronics and Communication Engineering (ECE).

B. Tech

Computer Science & Engineering (CSE) - 120 Electronics & Communication Engineering (ECE) - 90

Ph.D. Program and Research Areas:

Electronics and Communication Engineering (ECE), Computer Science and Engineering (CSE

B. Tech

Computer Science & Engineering (CSE) Electronics & Communication Engineering (ECE)

B. Tech

Computer Science & Engineering (CSE)

Electronics & Communication Engineering (ECE)

B. Tech

Computer Science & Engineering (CSE)

Electronics & Communication Engineering (ECE)

Courses

B. Tech

Computer Science & Engineering (CSE) - 60
Electronics & Communication Engineering (ECE) - 60 Information & Technology (IT) - 60

B. Tech

Computer Science & Engineering (CSE) Electronics & Communication Engineering Mechatronics