MATHEMATICS, STATISTICS & ACTUARIAL
India has a long and ancient mathematical tradition. The Sulvasutras, Vedic texts for theconstruction of ritual altars, contain a lot of geometrical results and constructions. Theseinclude a statement of the Pythagoras Theorem, an approximation to the value of 'pi', andthe ratio of the circumference of a circle to its diameter. India gave the world the decimalplace value system, the modern way of writing numbers, and above all, the number 'zero.' Itboasts of mathematical schools like those of Aryabhata and Bhaskara. Much later, in the15th century, came the flourishing School of Madhava in Kerala, which anticipated, by morethan 200 years, several results of the Calculus invented by Newton and Leibniz.
Careers in Mathematics
A trained mathematician can be very well employed in Government departmentsengaged in
Space research (the Indian Space Research Organization, or ISRO),
Defence research (Defence Research and Development Organization, or DRDO)
Aeronautical research (National Aeronautics Limited, or NAL)
Cryptology is in vogue (the systems ensuring the safety of your credit card transactions arebased on some very sophisticated mathematics).
Organizations such as the DRDO and the Society for Electronic Transactions and Security(SETS) are interested in mathematicians with training in this area.
Financial mathematics is another area that leads to well-paid jobs.
Computer giants such as IBM and Microsoft have research departments which have highly paid scientists who are either mathematicians or theoretical computer scientists. (They can, for all practical purposes, be considered as mathematicians). Thus, there is plenty of scope, outside academia, for well-paid jobs for mathematicians.
Where to study in India:
Purely research-oriented institutions like
Tata Institute of Fundamental Research (TIFR) in Mumbai,
The Institute of Mathematical Sciences (IMSc) in Chennai,
Harish Chandra Research Institute (HRI) in Allahabad.
Interestingly, all these are autonomous aided institutions that are fully supported by theDepartment of Atomic Energy (DAE) of the Government of India. TIFR is now a deemeduniversity, while the IMSc and the HRI are affiliated to the deemed university called theHomi Bhabha National Institute (HBNI) that covers all other aided institutions of theDAE.
Institutions of teaching and research which can offer degrees but do not come under thepurview of the University Grants Commission (UGC). These are set up by Acts ofParliament, and some come under the Ministry of Human Resource Development(MHRD).
These are the
Indian Statistical Institute (ISI),
The IITs, the IISc, and the newly set up Indian Institutes of Science Education andResearch (IISERs) in Bhopal, Kolkata, Mohali, Pune and Thiruvananthapuram, and theNational Institute of Science Education and Research (NISER) in Bhubaneswar (set upby the DAE).
Then there is the precursor to these latter new institutes, the unique ChennaiMathematical Institute (CMI), which is an example of public-private partnership. ISROhas also established its own such institution in Thiruvananthapuram.
The State and Central universities.
For those who hold a reasonably good doctoral degree, there are plenty of jobopportunities in such institutions. This will be so for a long time to come.
The training process of a mathematician in India.
The regular route for a student is a three-year B.Sc. course followed by a two-yearM.Sc. programme in mathematics, after which she or he could join a doctoralprogramme in a recognised university or research institution. There are the followingvariants to this theme.
The IIT-Kanpur pioneered the five-year M.Sc. programme (admission is through thejoint entrance examination) which combined the B.Sc. and M.Sc. programmes. IIT-Bombay followed suit. Now, this pattern is followed by all the IISERs and NISER. TheCentral University of Hyderabad and that of Pondicherry have also started suchprogrammes.
Recently, the three science academies in India have been advocating educationalreform that involves the introduction of a four-year B.S. programme followed by a yearof research and training leading to an M.S. The IISc will launch the first suchprogramme in August 2012.
Institutions of pure research (the TIFR, the IMSc and the HRI), the IISc and the CMIalso have integrated Ph.D. programmes. Promising students are selected after abachelor's degree in any science discipline or engineering directly for their Ph.D.programmes, provided they clear the (very rigorous) entrance tests and interviews on apar with M.Sc. candidates. They pick up an M.Sc. degree after two initial years ofcourse work and research.
All the IITs and universities also have independent M.Sc. and Ph.D. programmes.Admission is based on entrance tests and/or interview. The CMI has an M.Sc.programme in applications of mathematics with specialisation in financial mathematicsand computational applications of mathematics. It is contemplating a streamspecialising in cryptology. The ISI has an M. Math. Programme, held alternatively at itsKolkata and Bangalore campuses.
A special word on the undergraduate programmes of the CMI, which is B.Sc. (Hons.) inMathematics and Computer Science in Chennai, and the ISI — B. Math at its Bangalorecampus. If a student has a strong taste and talent for mathematics from an early age,these are the places to go for mathematics education. Both these programmes are veryintense. At the end of three years, the students can compete with any master's levelstudent anywhere on equal terms — and often they fare better.
Scholarships
First of all, there is the Kishore Vaigyanik Pratsohan Yojana which conducts a test forhigh school students. The successful ones opting for a career in science get ahandsome scholarship all through their higher education, up to completion of thedoctoral programme. The CMI and the ISI provide modest stipends to theirundergraduates and postgraduates, together with tuition waiver, as long as the studentsmaintain a healthy academic performance.
For the doctoral programmes, university students need to take an examinationconducted by bodies like the Council of Scientific and Industrial Research or the DSTfor a research fellowship. The current rates are Rs.16,000 for the first two years and,subject to satisfactory performance, Rs.18,000 a month thereafter. There is an annualcontingency grant as well.
All research institutions and institutions of teaching and research mentioned here havetheir own funding for Ph.D. scholarships at the same rates. In case the institution cannotprovide subsidised accommodation on campus, house rent allowance at the same ratesas applicable to faculty members is allowed.
Post-doctoral fellowships provide for a consolidated pay ranging from Rs.21,000 to Rs.25,000 a month (with the provision for HRA), along with a contingency grant, dependingon the candidate's post-doctoral experience.
The National Board for Higher Mathematics (NBHM), set up by the DAE to promotemathematics, conducts an examination every year for the award of a scholarship forM.Sc. programmes in mathematics in any recognised university or institution, and paysa monthly stipend of Rs.6, 000. The advertisement appears in newspapers by the endof June; the written test is usually held towards the end of September. It also awardsPh.D. scholarships, at the same rates as other research fellowships, by conductinganother examination which is advertised in November; the test is usually by the end ofJanuary or early February. The NBHM also offers post-doctoral fellowships.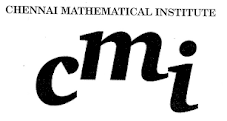 Chennai Mathematical Institute
Academic programmes offered at CMI
Admission will be made to the following programmes in 2019-20.
B.Sc. (Hons.) in Mathematics and Computer Science (3 year course).
B.Sc. (Hons.) in Mathematics and Physics (3 year course).
M.Sc. in Mathematics.
M.Sc. in Computer Science.
Ph.D. in Mathematics.
Ph.D. in Computer Science.
Ph.D. in Physics.
Indian Statistical Institutes
Statistics is a branch of mathematics dealing with data collection, organization, analysis, interpretation and presentation. In applying statistics to, for example, a scientific, industrial, or social problem, it is conventional to begin with a statistical population or a statistical model process to be studied.
Courses
| Programme | Duration | Venue |
| --- | --- | --- |
| | 3 years | Kolkata |
| | 3 years | Bengaluru |
| | 2 years | Chennai, Delhi, Kolkata* |
| | 2 years | Kolkata, Bengaluru* |
| | 2 years | Kolkata, Delhi |
| | 2 years | Bengaluru |
| | 2 years | Bengaluru & Hyderabad |
| | 2 years | Kolkata |
| M. Tech. in Quality, Reliability and Operations Research [2015] | 2 years | Kolkata |
| | 2 years | Kolkata |
| P h .D | | Kolkata, Delhi, Bengaluru, Chennai |
DIPLOMA PROGRAMMES
CERTIFICATE PROGRAMMES
| Name | Duration | Venue |
| --- | --- | --- |
| Part-time certificate in Statistical Quality Control | 1 year | Bangalore, Hyderabad |
RESEARCH FELLOWSHIP PROGRAMMES
| Name | Duration | Venue |
| --- | --- | --- |
| Junior/Senior Research Fellowship | 2+4 years | Kolkata, Delhi, Bangalore, Chennai, Hyderabad |
| | | |
Kerala School of Mathematics:
Kerala School of Mathematics (KSoM), an institution meant for advanced learning and research in Mathematics, is a joint venture of Kerala State Council for Science, Technology and Environment (KSCSTE), Government of Kerala and Department of Atomic Energy (DAE), Government of India. It is built in the traditional Kerala style architecture and is located in a picturesque setting surrounded by serene hillocks and lavish greenery. It is at a distance of about 15 km. from the seaside city Kozhikode in Malabar region of Kerala, India.
Universities offering courses in Mathematics
| University | State | City | Degree |
| --- | --- | --- | --- |
| Kakatiya University | Andhra Pradesh | Warangal | B.A |
| Kanpur University | Uttar Pradesh | Kanpur | B.A |
| MJP Rohilkhand University | Uttar Pradesh | Bareilly | B.A |
| Jamia Millia Islamia | Delhi | Delhi | B.A (Hons) |
| Lucknow University | Uttar Pradesh | Lucknow | B.A (Hons) |
| Magadh University | Bihar | Bodhgaya | B.A (Hons) |
| University of Delhi | Delhi | New Delhi | B.A (Hons) |
| Visva Bharati | West Bengal | Birbhum | B.A (Hons) |
| Bharati Vidyapeeth | Maharashtra | Pune | B.Sc |
| Calicut University | Kerala | Calicut | B.Sc |
| Christ University | Karnataka | Bangalore | B.Sc |
| EIILM University | Sikkim | Jorethang | B.Sc |
| Kakatiya University | Andhra Pradesh | Warangal | B.Sc |
| Kannur University | Kerala | Kannur | B.Sc |
| Kanpur University | Uttar Pradesh | Kanpur | B.Sc |
| Lucknow University | Uttar Pradesh | Lucknow | B.Sc |
| Madurai Kamraj University | Tamilnadu | Madurai | B.Sc |
| MJP Rohilkhand University | Uttar Pradesh | Bareilly | B.Sc |
| Periyar University | Tamilnadu | Salem | B.Sc |
| Punjabi University | Punjab | Patiala | B.Sc |
| Rajasthan University | Rajasthan | Jaipur | B.Sc |
| Singhania University | Rajasthan | Jhunjhunu | B.Sc |
| Solapur University | Maharashtra | Solapur | B.Sc |
| SRM University | Tamilnadu | Kancheepuram | B.Sc |
| University of Delhi | Delhi | New Delhi | B.Sc |
| University of Kota | Rajasthan | Kota | B.Sc |
| Jadavpur University | West Bengal | Kolkata | B.Sc (Hons) |
| Jamia Millia Islamia | Delhi | Delhi | B.Sc (Hons) |
| Magadh University | Bihar | Bodhgaya | B.Sc (Hons) |
| Punjab University | Punjab | Chandigarh | B.Sc (Hons) |
| University of Delhi | Delhi | New Delhi | B.Sc (Hons) |
| Vikram University | Madhya Pradesh | Ujjain | B.Sc (Hons) |
| Visva Bharati | West Bengal | Birbhum | B.Sc (Hons) |
| Aligarh Muslim University | Uttar Pradesh | Aligarh | B.Sc (Hons.) |
| BHU | UP | Varanasi | B.Sc (Hons.) |
| Burdwan University | West Bengal | Burdwan | B.Sc (Hons.) |
| Tezpur University | Assam | Tezpur | B.Sc B.ed Integrated |
| Thapar University | Punjab | Patiala | B.Sc M.Sc (Dual Degree) |
| Gauhati University | Assam | Gauhati | BS |
| Sharda University | Uttar Pradesh | Noida | BS MS Integrated |
| Christ University | Karnataka | Bangalore | Certificate |
| Dr MGR University | Tamilnadu | Chennai | Certificate |
| Karnatak University | Karnataka | Dharwad | Certificate |
| Assam University | Assam | Silchar | D.Sc |
| Dr BR Ambedkar University | Uttar Pradesh | Agra | M.A |
| EIILM University | Sikkim | Jorethang | M.A |
| Kakatiya University | Andhra Pradesh | Warangal | M.A |
| MJP Rohilkhand University | Uttar Pradesh | Bareilly | M.A |
| Nagpur University | Maharashtra | Nagpur | M.A |
| Rabindra Bharati University | West Bengal | Kolkata | M.A |
| Visva Bharati | West Bengal | Birbhum | M.A |
| South Gujarat University | Gujarat | Surat | M.Com |
| Alagappa University | Tamilnadu | Karaikudi | M.Phil |
| Amity University | Uttar Pradesh | Noida | M.Phil |
| Anna University | Tamil Nadu | Chennai | M.Phil |
| Assam University | Assam | Silchar | M.Phil |
| Bharathiar University | Tamilnadu | Coimbatore | M.Phil |
| Bharathidasan University | Tamilnadu | Tiruchirappalli | M.Phil |
| Bikaner University | Rajasthan | Bikaner | M.Phil |
| Bundelkhand University | Uttar Pradesh | Jhansi | M.Phil |
| Burdwan University | West Bengal | Burdwan | M.Phil |
| Calcutta University | West Bengal | Kolkata | M.Phil |
| Chaudhary Charan Singh University | Uttar Pradesh | Meerut | M.Phil |
| Christ University | Karnataka | Bangalore | M.Phil |
| Dr BR Ambedkar University | Uttar Pradesh | Agra | M.Phil |
| Gauhati University | Assam | Gauhati | M.Phil |
| Gujarat University | Gujarat | Ahmedabad | M.Phil |
| Gulbarga University | Karnataka | Gulbarga | M.Phil |
| Himachal Pradesh University | Himachal Pradesh | Shimla | M.Phil |
| Jiwaji University | Madhya Pradesh | Gwalior | M.Phil |
| Kakatiya University | Andhra Pradesh | Warangal | M.Phil |
| Karnatak University | Karnataka | Dharwad | M.Phil |
| Kurukshetra University | Haryana | Kurukshetra | M.Phil |
| Madras University | Tamilnadu | Madras | M.Phil |
| Madurai Kamraj University | Tamilnadu | Madurai | M.Phil |
| Maharshi Dayanand University | Haryana | Rohtak | M.Phil |
| Mahatma Gandhi University | Meghalaya | Garo Hills | M.Phil |
| Mumbai University | Maharashtra | Mumbai | M.Phil |
| Mysore University | Karnataka | Mysore | M.Phil |
| Pt. Ravishankar Shukla University | Chhatisgarh | Raipur | M.Phil |
| Rajasthan University | Rajasthan | Jaipur | M.Phil |
| Sardar Patel University | Gujarat | Vidyanagar | M.Phil |
| Saurashtra University | Gujarat | Rajkot | M.Phil |
| Shivaji University | Maharashtra | Kolhapur | M.Phil |
| Solapur University | Maharashtra | Solapur | M.Phil |
| South Gujarat University | Gujarat | Surat | M.Phil |
| Thiruvalluvar University | Tamilnadu | Vellore | M.Phil |
| University of Delhi | Delhi | New Delhi | M.Phil |
| Utkal University | Orissa | Bhubaneswar | M.Phil |
| Vikram University | Madhya Pradesh | Ujjain | M.Phil |
| Calicut University | Kerala | Calicut | M.Phil PhD Integrated |
| Adikavi Nannaya University | Andhra Pradesh | Rajahmundry | M.S Integrated |
| Acharya Nagarjuna University | Andhra Pradesh | Guntur | M.Sc |
| Alagappa University | Tamilnadu | Karaikudi | M.Sc |
| Aligarh Muslim University | Uttar Pradesh | Aligarh | M.Sc |
| Amity University | Uttar Pradesh | Noida | M.Sc |
| Amrita University | Tamil Nadu | Coimbatore | M.Sc |
| Andhra University | Andhra Pradesh | Visakhapatnam | M.Sc |
| Anna University | Tamil Nadu | Chennai | M.Sc |
| Annamalai University | Tamil Nadu | Annamalainagar | M.Sc |
| Assam University | Assam | Silchar | M.Sc |
| Bangalore University | Karnataka | Bangalore | M.Sc |
| Bharathiar University | Tamilnadu | Coimbatore | M.Sc |
| Bharathidasan University | Tamilnadu | Tiruchirappalli | M.Sc |
| BHU | UP | Varanasi | M.Sc |
| Bikaner University | Rajasthan | Bikaner | M.Sc |
| Bundelkhand University | Uttar Pradesh | Jhansi | M.Sc |
| Burdwan University | West Bengal | Burdwan | M.Sc |
| Calcutta University | West Bengal | Kolkata | M.Sc |
| Calicut University | Kerala | Calicut | M.Sc |
| Central University Hyderabad | Andhra Pradesh | Hyderabad | M.Sc |
| Chaudhary Charan Singh University | Uttar Pradesh | Meerut | M.Sc |
| Christ University | Karnataka | Bangalore | M.Sc |
| Dr BR Ambedkar University | Uttar Pradesh | Agra | M.Sc |
| EIILM University | Sikkim | Jorethang | M.Sc |
| Gauhati University | Assam | Gauhati | M.Sc |
| Gujarat University | Gujarat | Ahmedabad | M.Sc |
| Gulbarga University | Karnataka | Gulbarga | M.Sc |
| Guru Nanak Dev University | Punjab | Amritsar | M.Sc |
| Himachal Pradesh University | Himachal Pradesh | Shimla | M.Sc |
| Jadavpur University | West Bengal | Kolkata | M.Sc |
| Jaipur National University | Rajasthan | Jaipur | M.Sc |
| Jamia Millia Islamia | Delhi | Delhi | M.Sc |
| Jammu University | J & K | Jammu | M.Sc |
| Jiwaji University | Madhya Pradesh | Gwalior | M.Sc |
| Jodhpur University | Rajasthan | Jodhpur | M.Sc |
| Kakatiya University | Andhra Pradesh | Warangal | M.Sc |
| Kalyani University | West Bengal | Nadia | M.Sc |
| Karnatak University | Karnataka | Dharwad | M.Sc |
| Kashmir University | J & K | Srinagar | M.Sc |
| Kerala University | Kerala | Thiruvananthapuram | M.Sc |
| Krishna University | Andhra Pradesh | Machilipatnam | M.Sc |
| Kurukshetra University | Haryana | Kurukshetra | M.Sc |
| Kuvempu University | Karnataka | Shimoga | M.Sc |
| Lovely Professional University | Punjab | Jalandhar | M.Sc |
| Lucknow University | Uttar Pradesh | Lucknow | M.Sc |
| Madras University | Tamilnadu | Madras | M.Sc |
| Madurai Kamraj University | Tamilnadu | Madurai | M.Sc |
| Magadh University | Bihar | Bodhgaya | M.Sc |
| Maharshi Dayanand University | Haryana | Rohtak | M.Sc |
| Mangalore University | Karnataka | Mangalagangotri | M.Sc |
| Manipal University | Karnataka | Manipal | M.Sc |
| MDS University | Rajasthan | Ajmer | M.Sc |
| MJP Rohilkhand University | Uttar Pradesh | Bareilly | M.Sc |
| Mysore University | Karnataka | Mysore | M.Sc |
| Nagpur University | Maharashtra | Nagpur | M.Sc |
| Osmania University | Andhra Pradesh | Hyderabad | M.Sc |
| Patna University | Bihar | Patna | M.Sc |
| Periyar University | Tamilnadu | Salem | M.Sc |
| Pt. Ravishankar Shukla University | Chhatisgarh | Raipur | M.Sc |
| Pune University | Maharashtra | Pune | M.Sc |
| Punjabi University | Punjab | Patiala | M.Sc |
| Rajasthan University | Rajasthan | Jaipur | M.Sc |
| Rajiv Gandhi University | Arunchal Pradesh | Itanagar | M.Sc |
| Sardar Patel University | Gujarat | Vidyanagar | M.Sc |
| Saurashtra University | Gujarat | Rajkot | M.Sc |
| Shivaji University | Maharashtra | Kolhapur | M.Sc |
| Singhania University | Rajasthan | Jhunjhunu | M.Sc |
| Solapur University | Maharashtra | Solapur | M.Sc |
| South Gujarat University | Gujarat | Surat | M.Sc |
| Sri Venkateswara University | Andhra Pradesh | Tirupati | M.Sc |
| SRM University | Tamilnadu | Kancheepuram | M.Sc |
| Tezpur University | Assam | Tezpur | M.Sc |
| Thapar University | Punjab | Patiala | M.Sc |
| Thiruvalluvar University | Tamilnadu | Vellore | M.Sc |
| University of Delhi | Delhi | New Delhi | M.Sc |
| University of Kota | Rajasthan | Kota | M.Sc |
| Utkal University | Orissa | Bhubaneswar | M.Sc |
| Vikram University | Madhya Pradesh | Ujjain | M.Sc |
| Visva Bharati | West Bengal | Birbhum | M.Sc |
| Guru Nanak Dev University | Punjab | Amritsar | M.Sc (Hons) |
| Lovely Professional University | Punjab | Jalandhar | M.Sc (Hons) |
| Punjab University | Punjab | Chandigarh | M.Sc (Hons) |
| Maharshi Dayanand University | Haryana | Rohtak | M.Sc (Hons) Integrated |
| Aliah University | West Bengal | Kolkata | M.Sc Integrated |
| Amrita University | Tamil Nadu | Coimbatore | M.Sc Integrated |
| Annamalai University | Tamil Nadu | Annamalainagar | M.Sc Integrated |
| Pt. Ravishankar Shukla University | Chhatisgarh | Raipur | M.Sc Integrated |
| Tezpur University | Assam | Tezpur | M.Sc Integrated |
| University of Hyderabad | Andhra Pradesh | Hyderabad | M.Sc Integrated |
| Pune University | Maharashtra | Pune | M.Tech |
| BHU | UP | Varanasi | M.Tech Integrated |
| Mumbai University | Maharashtra | Mumbai | PG Diploma |
| Pune University | Maharashtra | Pune | PG Diploma (Ayur) |
| Anna University | Tamil Nadu | Chennai | PhD |
| Assam University | Assam | Silchar | PhD |
| Bharathidasan University | Tamilnadu | Tiruchirappalli | PhD |
| Bikaner University | Rajasthan | Bikaner | PhD |
| Calcutta University | West Bengal | Kolkata | PhD |
| Christ University | Karnataka | Bangalore | PhD |
| Dr BR Ambedkar University | Uttar Pradesh | Agra | PhD |
| Gauhati University | Assam | Gauhati | PhD |
| Gujarat University | Gujarat | Ahmedabad | PhD |
| Gulbarga University | Karnataka | Gulbarga | PhD |
| Himachal Pradesh University | Himachal Pradesh | Shimla | PhD |
| Jadavpur University | West Bengal | Kolkata | PhD |
| Jamia Millia Islamia | Delhi | Delhi | PhD |
| Jodhpur University | Rajasthan | Jodhpur | PhD |
| Kakatiya University | Andhra Pradesh | Warangal | PhD |
| Karnatak University | Karnataka | Dharwad | PhD |
| Kuvempu University | Karnataka | Shimoga | PhD |
| Lovely Professional University | Punjab | Jalandhar | PhD |
| Lucknow University | Uttar Pradesh | Lucknow | PhD |
| Maharshi Dayanand University | Haryana | Rohtak | PhD |
| Mahatma Gandhi University | Meghalaya | Garo Hills | PhD |
| Mumbai University | Maharashtra | Mumbai | PhD |
| Pt. Ravishankar Shukla University | Chhatisgarh | Raipur | PhD |
| Punjab Technical University | Punjab | Kapurthala | PhD |
| Rajasthan University | Rajasthan | Jaipur | PhD |
| Sardar Patel University | Gujarat | Vidyanagar | PhD |
| Saurashtra University | Gujarat | Rajkot | PhD |
| Sharda University | Uttar Pradesh | Noida | PhD |
| Shivaji University | Maharashtra | Kolhapur | PhD |
| Solapur University | Maharashtra | Solapur | PhD |
| South Gujarat University | Gujarat | Surat | PhD |
| Tezpur University | Assam | Tezpur | PhD |
| Thapar University | Punjab | Patiala | PhD |
| Thiruvalluvar University | Tamilnadu | Vellore | PhD |
| University of Delhi | Delhi | New Delhi | PhD |
| University of Hyderabad | Andhra Pradesh | Hyderabad | PhD |
| Calcutta University | West Bengal | Kolkata | Post-Doctoral |