NANO TECHNOLOGY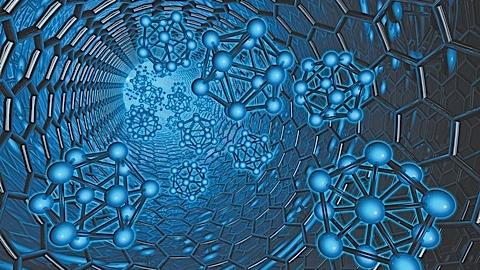 Nanotechnology is a field of research and innovation concerned with building 'things' - generally, materials and devices - on the scale of atoms and molecules. A nanometer is one-billionth of a metre: ten times the diameter of a hydrogen atom. The diameter of a human hair is, on average, 80,000 nanometers. At such scales, the ordinary rules of physics and chemistry no longer apply. For instance, materials' characteristics, such as their colour, strength, conductivity and reactivity, can differ substantially between the nanoscale and the macro. Carbon 'nanotubes' are 100 times stronger than steel but six times lighter.
Nanotechnology is science, engineering, and technology conducted at the Nano scale, which is about 1 to 100 nanometres. Nano science and nanotechnology are the study and application of extremely small things and can be used across all the other science fields, such as chemistry, biology, physics, materials science, and engineering.
The ideas and concepts behind Nano science and nanotechnology started with a talk entitled "There's Plenty of Room at the Bottom" by physicist Richard Feynman at an American Physical Society meeting at the California Institute of Technology (Cal Tech) on December 29, 1959, long before the term nanotechnology was used. In his talk, Feynman described a process in which scientists would be able to manipulate and control individual atoms and molecules. Over a decade later, in his explorations of ultra-precision machining, Professor Norio Taniguchi coined the term nanotechnology. It wasn't until 1981, with the development of the scanning tunnelling microscope that could "see" individual atoms that modern nanotechnology began.
Nanotechnology offers the potential for new and faster kinds of computers, more efficient power sources and life-saving medical treatments. Potential disadvantages include economic disruption and possible threats to security, privacy, health and the environment.
Courses:
M.Tech Nanotechnology
This is a 2-year post-graduation course which involves in studying the nature of matter on a molecular or an atomic level. Nanotechnology is a new dimension in this field of engineering. Nanotechnology includes the study of science, engineering, and technology.
Eligibility
The minimum requirement for the master's degree is an undergraduate degree in engineering or technology with an aggregate score of 50% can apply for this course. Admission into reputed institutes such as IITs, NITs, and VIT can be obtained by appearing for an entrance exam like GATE.
M.Tech Nanotechnology is a 2-year post-graduate course. Examinations are held at the end of each semester. Direct admission through management quota is also available in a very few of the private colleges, but the admission fee will be very high.
M.Tech Nanotechnology Scope
Pursuing M.Tech after B. Tech gives sufficient time to get deep technical knowledge of the subject and have more control over it. After completing Master's in Nanotechnology, candidates can choose the career in nanotechnology in various industries such as auto and aerospace industry, forensics etc. Presently nanotechnology has become a dynamic and expanding research area. Some of the M.Tech Nanotechnology jobs are:
Engineering companies
Food and beverages
Space research
Forensics
Military and national security
Electronics industry
Materials sciences
Aerospace industries
Medical Scientist and Technician etc.
List of Top M.Tech Nanotechnology Colleges in India
The following is the list of top M.Tech Nanotechnology colleges in India:
1. Indian Institute of Technology, [IIT] Roorkee
Established in 1847, later in 2001, it was converted into an Indian Institute of Technology (IIT) and declared as seventh IIT in India. It ranked sixth among engineering colleges by the National Institutional Ranking Framework. If you are looking for M.Tech Nanotechnology in IIT, Roorkee is the best option.
2. National Institute of Technology, [NIT] Surathkal
The institute was founded in 1960 and is one of the 31st National Institutes of Technology in India and is recognised as an Institute of National Importance. It ranked 21st among engineering colleges by the National Institutional Ranking Framework.
3. National Institute of Technology, Kozhikode, Kerala
Maulana Azad National Institute of Technology, [MANIT] Bhopal
It is also known as National Institute of Technology, Bhopal. Started in 1960, it is ranked 55th among engineering colleges of India by National Institutional Ranking Framework.
4. National Institute of Technology, [NIT] Kurukshetra
It is the 30th National Institutes of Technology established by the Government of India. NIRF ranked National Institute of Technology, Kurukshetra 43rd in the engineering ranking.
5. Vellore Institute of Technology (VIT), Vellore
Founded in 1984 as a self-financing institution. Entry into M.Tech programmes occurs by successfully getting through the VITMEE examination. The institute aims at providing quality education to students from all over India, including those from the local and rural areas, and from other countries.
6. SRM University Kattankulathur Campus, [SRM] Kancheepuram
SRM Kancheepuram is one of the campuses under SRM Institute of Science and Technology. NIRF ranked SRM 46th in the top engineering colleges. SRM University now has 8 campuses.
7. Zakir Hussain College of Engineering and Technology, Aligarh
Established in 1935, and the college has also ranked 35th in the Top Engineering Colleges by Outlook India.
8. Sathyabama University, Chennai
The university was founded in 1987 and the NIRF ranked Sathyabama Institute of Science and Technology 37th in the engineering ranking in 2018.
9. Andhra University, Vishakhapatnam
Established in 1926, it was ranked 36th in India overall by the NIRF in 2018. The University has a relentless commitment to its efforts in maintaining standards in teaching and research, ensuring proper character building and development among the students, encouraging community developmental programmes.
10. Aligarh Muslim University, Aligarh
It was established in 1875 and was ranked 17th in India overall by the NIRF in 2018. The college was originally affiliated with the University of Calcutta.